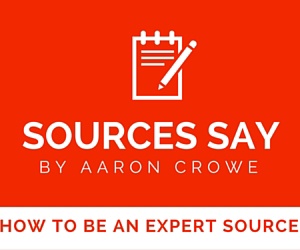 Getting your business, or at least your name, in a news story isn't as difficult as it used to be.
Long before the Internet gave businesses an easy way to sell themselves directly to customers, a business owner might best find their name in print by building a relationship with a reporter for the business section of the local newspaper. If the reporter was working on a story about the economy, for example, they may call the business owner for their take on it.
It's a lot easier now to promote your business online. You can reach customers from your website, where you provide content that they'll want to come back to again and again.
Or you could be cited as an expert source in a news story to run online or in a newspaper by answering a query on HARO — Help a Reporter Out — a site that connects reporters with sources. Other sites do this too, though I think HARO is the best out there.
However you connect with reporters, being seen as an expert source in your field can go a long way in giving your business free publicity.
A message gap
As a journalist, I've had the help of many sources throughout my career. As a freelance writer since 2008 who specializes in online personal finance content, I've found that most sources prefer a link back to their website in exchange for helping me as a source. I'm happy to provide the links (though that decision is in the hands of my editors), and I'm thankful for their help.
But too often, people who want to help as sources don't do the best job providing the best information in the best way possible. There's a gap between what they want to say and how they say it.
To help potential sources deal with that so that they're quoted in the media and make the most of such opportunities, I've written a short book called "Sources Say," with my best tips for being a great source.
Here are a few ways to be a great source and have reporters call you often: ...continue reading →