Running a blog is like running a business.
Some people blog for their businesses. Some people use their blogs as their business. I admit though, it was not always like a business in my case; I started out blogging for fun and as a hobby. I didn't know that you could make money from blogging. Even still, I don't make all that much from it but it's turned into a huge part of my life. If you want to start a blog and don't know where to start, Jeremy has a great post with some tips and tricks and things to consider.
Here's how running a blog is like running a business.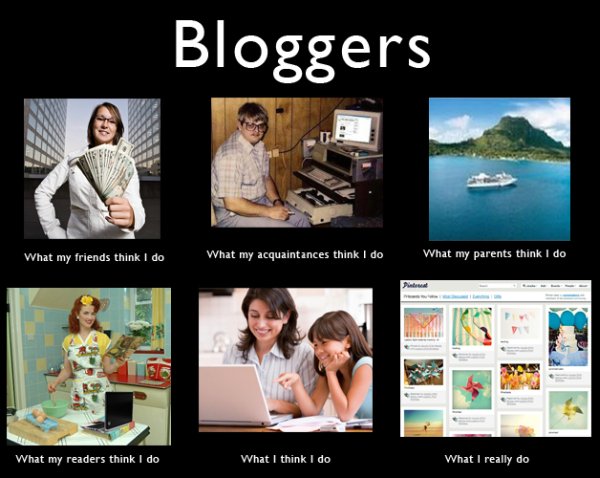 It's Time Consuming
If I'm not at work, school, or asleep, I'm blogging.
Of course, the scale of one's blog also dictates how much work goes into it, but generally speaking, blogs take up a lot of time.
It's not just writing content that is time consuming; in order for your blog to even be read by anyone, you need to network, comment on other blogs, tweet, promote other blogs, guest post, etc.
It's very time consuming and so is running a business.
It Requires Capital
For any business to be successful, the owner needs to put capital out before raking in the profit. Blogs are no different.
Typically, you have to pay for the hosting, the domain, a custom design, a logo or header, and possibly even outsource some things, like carnival submission, commenting, etc.
It's usually not a ton of money, but will typically take some money. That being said, doing all of these things and getting away from free blogs will usually increase your chances of earning blogging income, if that's what you are after.
When I switched to self hosted, not only did my stats sky-rocket, but advertisers also started to contact me.
You Provide a Service
While you aren't cutting anybody's hair or cleaning their gutters, you are still providing a service; that service is entertainment, inspiration, and information.
It's largely a free service, unless you have an eBook that you are selling or a subscription fee. Most blogs are free, but the "profit" that readers provide comes with advertisers. The more readers you have, the more interesting you are to advertisers.
So, readers and visitors pay you in page views, either from a Google search or from their subcription.
It's sort of like a radio station, in that they get more advertisers the more people listen, but other than having a radio (and, in a blogs case, other than having the internet), the service is free.
You Have a Target Market
When you write your posts, even if you are not thinking about who you want to read it, you are targeting a certain demographic.
My target market varies per post; sometimes, I target 20 something females, sometimes, 30 somethings, sometimes other bloggers, but I would say that my target market is anybody who is wishing to improve their life and live for themselves.
If you didn't have a certain demographic that you wanted to pique the interest of, you'd have either a private blog or a paper journal.
You Have Competitors
Luckily, in blogging, your competitors - or, the people who do the same thing as you and produce the same product - can also be your best friends.
Those competitors promote you, link to you, and refer to your posts. They bring your Alexa ranking down and your PageRank up. Your competitors can become your readers, and your readers can become your competitors.
Especially in blogs about a specific topic - ie personal finance or mommy blogs - there are only a limited number of things to discuss before you start repeating each other.
It happens. It's not the end of the world. Sometimes, you don't even know the topic has been done before. You usually hope that your take on it brings something different to the table.
You want to promote your blogging competitors, because at the end of the day it's not like your target market can only read one blog and one blog only - they can read multiple, and usually do.
Sometimes, there are some real and sneaky competitors; just like Blackberry stole the Playbook idea from the iPad, there are some "bloggers" that steal whole identities from other bloggers. I've only seen this happen once, and it's not pretty.
You Need to Advertise
I don't necessarily mean that you need to go out and put on a radio ad or buy ad space on a website. What I mean, is that much of bloggers time is spent getting their names out there in the blogosphere.
They comment, Tweet, and spend time on Google+. They network and email and connect.
As bloggers, we're frequently out there pounding the proverbial pavement finding ways to get our "brand", or our names out there.
Many bloggers have made their blogs into businesses; they make their incomes off of their blog and work to grow and nurture their work.
I can't claim that WLGYL is run like your average business, in that I don't really have a clear vision (I know where I'd like it to be but that changes sometimes), and my mission is under-developed if at all.
But there are certain elements of business that blogging shares.
Do you run your blog like a business? Do you blog for money or pleasure?
Starting a blog? You may also be interested to read some of my other posts about the subject:
Blogging 101
Should You Blog Anonymously?
Feel free to email me with any blogging questions and I'd be happy to help!