Today we have a guest post from a new blogger, Kristi Muse. Take it away Kristi!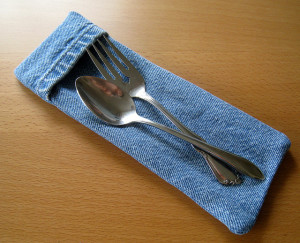 Companies make their biggest profits off of consumers who pay more for convenience items.  Convenience marketing is especially targeted towards busy parents. Single serve yogurts, juices, snack packs, etc. all cost more than the bulk packaging on the same shelf. The reason these items sell, although they cost significantly more, is because people want, and will pay for, convenience. They want to be able to just grab a bag of chips on the way out of the door. Although innocuous enough at the store, these items eat away at budgets in a big way.
If you are trying to save money or would like to have extra room in your budget to pay down debts, I urge you to stop purchasing those convenience items. There's an easy way to still have the convenience of single serve items, without the exorbitant cost. It just takes an ounce of extra effort. By making a one-time purchase on reusable items, you can save a lot of money down the road.
Reusable Squeeze Pouch
Parents love the squeeze pouches. They are wholesome snacks that can be thrown in the diaper bag and taken on the go. Because they are minimal mess and easy clean up, they are a parent's dream come true. The squeeze pouches at the store are so expensive though. Don't worry, you don't have to give up on the convenience of food pouches altogether to save money. Pick up a package of the refillable ones instead. They're freezer and dishwasher safe, and you'll be able to fill them with your own home creations or store brand fruits and veggies. By preparing them yourself, your bank account will thank you.
Lunch Containers
Three years ago, on black Friday, I bought Pyrex containers for half price. Pyrex saves me so much money every month. They are freezer, dishwasher, and microwave safe. The small and medium size bowls also help with perfect portion size. Packed lunches are so easy to make with Pyrex containers. I simply put our dinner leftovers in them, and the next morning we have a packed lunch ready to throw in a lunch bag. Having food ready and waiting in the fridge means we are less likely to pick up fast food. There are all kinds of different reusable containers out there. Bento boxes are really popular among parents. You can find reusable lunch containers in glass, plastic, or stainless steel. It really all depends on how much money you want to pay up front. If you keep a keen eye out, you may be able to find these items at severely reduced prices. The long term investment is well worth the up-front cost.
Reusable "Zip Bags"
Plastic sandwich and snack bags are a waste of money. You use them once and throw them away. Store brand sandwich bags cost 2 cents each. The larger gallon size ones cost 10 cents each. As an alternative, you can find packs of 4 reusable bags on Amazon or Etsy for about $12. You will be saving your family money long term if you invest in the reusable option instead of padding the pockets of big corporations.
Water Bottles
I hate to beat a dead horse, but can we talk about plastic water bottles for a minute? Surely, people know how dreadful they are by now, right? Not only are they expensive, but they are a waste of energy and natural resources. People pay on overage one US Dollar per plastic bottle for glorified municipal tap water. Purchase a water filtration system and a reusable bottle instead. My family decided to invest in a Berkey water filter. Although expensive at first, it now costs us only 2 cents per gallon of water by purchasing the replacement filters every year. You could save yourself around $1200 a year by taking your own filtered water with you wherever you go. Visit Ban the Bottle to learn more about how saying no to plastic water bottles can save both money and the environment.
Make the Leap!
It may seem overwhelming to replace all one-use items in your life with reusable alternatives. Go slowly. Invest in one container at time as your budget allows it. You will see returns on your investments in the long term. Reusable containers save a lot of money. They also save the environment. Trust me, your wallet (and the planet) will thank you.
Do you use reusable alternatives to save money? Do you think they are worth the investment?
Meet Kristi Muse. She is a freelance writer, blogger, police officer's wife, and mom to two beautiful children. She loves homeschooling, organic gardening, sustainable living, and cooking from scratch. To hire Kristi as a freelance writer or to read more about how she lives a balanced life visit her website at Moderate Muse. You can also follow her on twitter @moderatemuse.