Today we have a guest post from Katie Martens. Katie is here to tell us about how she and her husband trick themselves into saving up to $150 extra each month. Take it away Katie!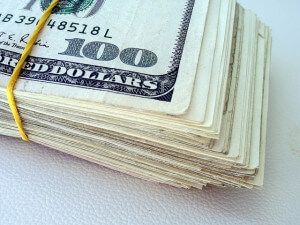 There's nothing more satisfying, at least financially, than getting paid for your work. If you're a W-2 employee, you can count on that satisfying ka-ching in your bank account with reassuring regularity. And then what happens after the ka-ching? You spend all the money.
Maybe not, and obviously that's not the goal, but sometimes that's how it feels because you've worked hard, you deserve to kick back a little, right? Perhaps you enjoy a few extra dinners out, or you buy that pair of jeans you've been eyeing since last month's paycheck. It's the classic mindset a friend told me once: "Steak at the beginning of the month, ramen by the end of the month."
My husband and I have this mindset, and have discovered two important things to combat our proclivity to award our hard work by spending ALL the money.
Awareness
Awareness or recognition of your inclination to spend all the money. I know this sounds basic, but I once had a roommate who complained at the end of every month that there was always more month than money. It never occurred to her that maybe going out for dinner and drinks 4 nights out of 7  for the first 3 weeks of the month was not an efficient use of her monthly paycheck. As GI Joe says: knowing is half the battle. And I'll take GI Joe a step further: knowing yourself is half the battle.