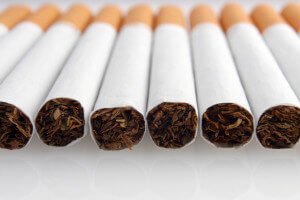 If you have a costly addiction, it can be difficult to see life without it. Whether it's using a credit card for impulse purchases, gambling, drinking, eating out at fancy restaurants, or a host of others, an addiction can be a difficult thing to quit — such as smoking cigarettes.
In addition to being an expensive habit, smoking cigarettes is unhealthy and has other high costs, such as for medical care and life insurance.
Here are some of the high costs of smoking cigarettes:
Buying cigarettes
A pack of cigarettes costs $5 to $15 per pack, depending on what state you live in. A pack a day at $10 per adds up to $3,650 per year.
Work productivity while smoking cigarettes
Ohio State University researchers found that smokers average five breaks per workday, resulting in less productivity at work than nonsmokers. Smokers also take 2.5 more sick days per year than nonsmokers.
That lost productivity and extra health care costs for smokers costs employers $5,816 more per year, the researchers found.