This weekend, I was in the States and am too cheap to incur roaming charges. I switched my phone off and brought my laptop along for a once-a-day email check, just in case my group members from my classes have a crisis that can't be solved without me. I checked my email once a day – that's it – and went into my dashboard and approved outstanding comments.
When I got home on Monday night, after checking but not responding to my email, and having to write a post for Tuesday and approve a days worth of pending comments and catching up on what's going on with my stats, it took me about an hour.
That's it. An hour.
Apparently it doesn't take that long to respond to 15 emails, read and press approve on comments, and check up on things. Especially when you're doing it on a laptop instead of an iPhone. Even from 3 days. Granted, email and blog activity do slow down over the weekend, but still.
So this got me thinking. I had such a simple weekend. I had a plan for what I wanted to do on the internet when I got back home. I checked email once and didn't check my phone at all. I lived in the moment – there were definitely times when the boyfriend would say "I wonder what ______", and I wish I had my phone on so I could Google it, but it wasn't the end of the world.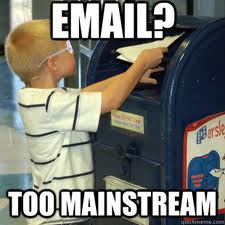 Nothing blew up, nothing went awry, and people didn't even notice that it took me a little longer to respond.
In fact, I found myself relieved of a lot of the pressure I put on myself, constantly, to always be accessible. Instead of checking me email and obsessing over answering it right away, I just left it and forgot about it until I could write back. I love getting email, but when my inbox is getting cluttered, it can be stressful.
After simplifying things in such a small way, it got me thinking of how I can simplify my life further. I'm not a minimalist and while I can appreciate simplifying your life by getting rid of unnecessary objects and living on less, it's just not me. I like me some stuff!
So while thinking of how to simplify your life, here's what I've come up with.
Checking email only 3x/day
Because I get overwhelmed when I log-in to my email inbox and there is a lot to tend to, I won't be checking it only once a day, but 3 times per day is a lot less than I have been in the past. I'd check my email anywhere between 10-15 times/day before.
Today I've challenged myself to checking it only three times, and have been successful so far.
Giving myself enough time in the morning
I hate being rushed in the morning. I'm lucky that I have an internal clock that wakes me up at exactly 6:00 AM or earlier, so I never oversleep, but sometimes I don't give myself enough time in the morning. I get caught up in reading blog posts, checking email, and scrambling around trying to get everything together that it can cause me to feel frazzled all day.
Even giving myself a few extra minutes in the morning to get things together would help in simplifying my life a lot.
Turn my phone off at night
My phone, unless it's dead, is never off. Ever. I don't just turn it off (unless of course it's incurring roaming charges when I'm in the States). I turn it on silent but make sure that the vibrate setting is on just in case, because then I can usually feel it and it wakes me up.
I really don't think I need to keep my phone on at night anymore. I've had a couple of interrupted sleeps if my friends call too late and I fall asleep reading, or if somebody texts me really early in the morning (I'm a light sleeper) it can jolt me awake.
I doubt it would hurt to turn my phone off at night, and especially since I don't do well if I am not well rested.
Unsubscribe to unnecessary things
One thing I hate seeing is my Google Reader with 400 unread items, my email inbox littered with marketing campaigns, and my Twitter filled with spammy Tweets. When I first joined Twitter, I followed everyone and anyone.
I've pared the tweeps that I'm following down by about 200 in the past month and it feels SO GOOD to not have to read through spam to get to the tweets that I actually want to read.
I also did some spring cleaning of my Google Reader, which also felt awesome - I had so many spammy blogs on there and blogs that I've lost interest in or who have stopped posting. I still am subscribed to a lot of blogs, but they are all ones that I actually read and enjoy.
Finally, I've been going through my junk mail and unsubscribing from all of the emails that both tempt me and fill up my inbox unnecessarily. It's a lot of work at first, but makes things simpler later.
Planning
As a planner, there's not much long-term stuff that I don't plan, but planning the little things would help make all of our lives simpler. Having an idea, at least, of what you'll wear tomorrow if you are the type to panic at the last minute, or knowing what order you'll do your errands in so you're not driving around aimlessly. These are things that definitely simplify life and save time.
Outsource
Sometimes, allowing yourself wiggle room to get away from the things that you don't like doing is worth the money you have to spend to get rid of a task.
I've outsourced a very small amount of my blogging work - just carnival submissions - but if/when I want to get a new theme for the blog, you'd bet that I'll be outsourcing that. I outsource some of my advertising management as well.
There are just things that I don't like doing and things that I don't understand, for whatever reason. It's not helpful to my life to struggle with these things, so outsourcing is the only way, sometimes.
Simplifying your life can be incredibly gratifying and can free up time for other, more important things.
How do you simplify your life?