When we bought our house, we were so excited to have a spare bedroom so that people could actually stay overnight without being succumbed to our crappy Walmart futon in the apartment living room.
We have a lot of extra space compared to our old apartment, which allows us a spare bedroom.
My step-grandmother passed away and my aunt and step-dad had to get rid of a lot of her furniture in order to get her home in selling order, so they gave us a newer, queen sized bed for the spare room, which worked out great because that's where my mom and step-dad will be staying when they come into town.
But no matter how hard I tried, I didn't like the green/beige color on the walls and I had a hard time imagining what colors would compliment it. The answer? None (in my mind). So I decided to paint and decorate that room.
It started off looking like this.
 (Well, obviously it didn't come with the mess - this photo was taken when I was originally getting ready to paint). The color was boring, but there is a lot of natural light and the room is a decent size. The house is older so the closets are much larger than the ones you'd find in a newer house, and it's on a quiet side of the house.
I picked out a neutral paint color that would go well with white. White is important to me for sheets and decor. It makes things look bright, clean and classic.
I thought grey would do well in this room, so I chose Enchanted Flute.
The color on the left wall is what we chose for most of the room, except the wall with the window. We wanted to do a bright, fun feature wall.
For that, I chose blue. It's very, very blue.
Excuse the picture quality.
This is what we did for the one wall - and when I say what We did, I mean what I did, because I was alone on this project.
Originally I had wanted to put wallpaper on the feature wall to really make it pop, but I don't know the first thing in wall-papering a wall and I didn't want it to turn out badly, so I decided to just paint it. It was this color versus Spa Blue by Benjamin Moore.
I still have a ton of the paint, because I only painted the one wall, so one day I'll paint the inside of the closet this colour too. Whenever I am lacking a project, which may be never.
So this is how it turned out: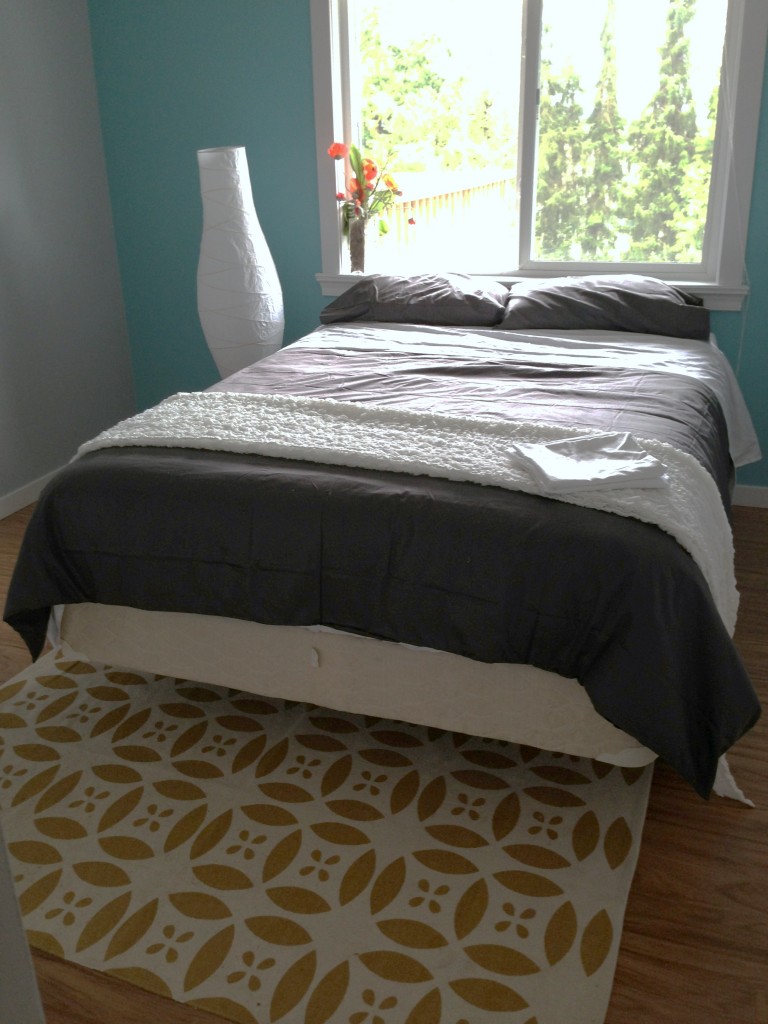 I wanted it to be fresh and clean looking, so I spruced it up with some white accents. I'm obsessed with mustard as a colour right now, so I tried to incorporate splashes of it in the room. I thought the rug would give it texture and I really liked the pattern.
The duvet and duvet cover are Ikea, which I bought with a gift card that we got during the Kitchen Event when we were buying the cabinets for the basement suite. I bought the textured throw blanket with that too. We also have a couple of floating shelves and a framed picture that are going to go up in this room, but we don't have the drywall screws needed to put up the shelves.
The chair was actually one from our old, bar height kitchen table. I spray painted it white to go with the room and had some  mustard colour fabric that I covered the previously beige cushion with.
There are plastic Easter eggs in that pot, because I took the picture on Easter. I got the sheets (which you can't really see but they have a faint, flowered/leaf pattern on them in iridescent white) and the picture at Home Sense. We already had the lamp from our apartment and had nowhere to put it, so I thought it worked in this room.
I had a lot of fun decorating this room; it's simple but fun and I'm really proud of my creation!