2012 was, undoubtedly, one of my biggest years yet. I made a list of some things that I wanted to accomplish at the beginning of the year, which were less reflective of traditional "goals".
But aside from these, 2012 brought a whole bunch of other interesting twists and turns.
In January, my 24 year old car finally kicked the proverbial bucket. I worked 90 minutes away from my home, went to school in 2 different cities and public transit didn't even run between my job, home, and school, so I bought a car. I took out a loan to buy the car, and have been paying it off at a much higher rate than the minimum payment ever since.
I started making income from my blog. I met some bloggers, my Alexa ranking dropped substantially, my PR doubled, and my traffic and readership has increased considerably. In March, a post on my blog was featured on the Consumerist. My blog has undergone two face-lifts this past year, and it's been growing more with each month that passes.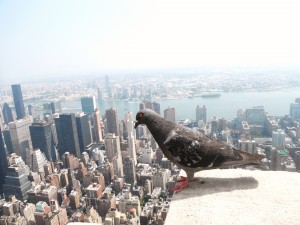 I started travelling a very small amount. My partner and I went to Oregon in the spring and spent the weekend there, and as a graduation gift to myself, I went to NYC with my best friend.
We got a second dog, who we rescued after the realization that our other dog needed a friend. She's been a great addition to our little family and a wonderful companion for our first.
We moved into the ghetto to save money more aggressively for our home buying venture. This proved to be a very interesting experience, but not unlike all of our other experiences renting different apartments.
Let's look at how I fared with my "goals":
Graduate
I graduated in 2012. This was a huge weight off of my shoulders and finishing school has granted me the extra time to reach other goals. I'd been in school for five and a half years, so it's been nice to slow down a bit and smell the flowers.
Get a Job in My Chosen Career
I got my first job that relates to my education.
Buy a Home
Did this too. Though this was on the tail end of 2012.
Start an RRSP
I started my RRSP in early January with ING Direct (get $50 for signing up before January 31 using my Orange Key! 35611511S1 at Ingdirect.ca). So far, I've been contributing on a monthly basis. I also have a great pension plan with the company for which I work, and I contribute 6% of my income to the plan. The company contributes 10% of my income. About 20% of my income including my pension is going toward my future retirement.
Lose 10 More Pounds
My weight has fluctuated throughout the year; at one point I came close to this goal, but I didn't seriously pursue it.
Earn an Extra $500/Month
I would definitely say that I hit this goal. With my babysitting side hustle, my blog income, and income from my side businesses. I've hit this goal easily.
Freelance
I picked up a couple of freelancing gigs in 2012, and I have really enjoyed them. I'll likely look for another one to add to the roster in 2013.
How did you do on your 2012 goals?