Somebody stole my wallet.
I was at the gym last Wednesday night when I should have been in class. I forgot my lock for the gym lockers, so I just put my bag in one of the many unlocked lockers and covered my wallet with my cardigan.
I got a workout in, and then returned to the locker room to retrieve my stuff so that I could go home, sit on the couch, and drink wine.
I noticed something was off when I walked into the locker room; every single locker was half open, which was odd. I had a bad feeling, and when I got to the locker that my stuff was in, it was confirmed - somebody had gone through my stuff.
I frantically dug through my bag for my wallet, knowing full well it was gone. So was my cardigan. I opened the bathroom stalls and found my cardigan crumpled in the corner of a stall. My wallet was nowhere to be found.
I have never had my wallet stolen, and I guess I was too trusting; I go to an women's only gym, and you have to be older than 18 to have a membership. Plus, there is no drop in. My perception of those who would steal a wallet went against everything my gym was.
I was so lucky, though. Being a personal finance blogger definitely pays off. My credit and debit cards, in alignment with this post, were left at home. I panicked at first, thinking that the thieves were probably wracking up my credit card, until I remembered that they were at home.
The day before, I noticed that my passport was in my wallet and I took it out. So that was lucky too.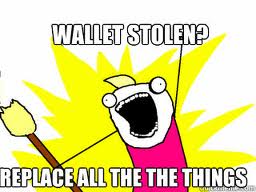 I had to jump into action as soon as I got home because, as it was the end of the month, I had some cheques in my wallet. Plus, I had my ING debit card in there and some ID. I had to:
Call the banks (ING, BMO) and wait on hold until I could report those two cards stolen
Put a stop payment on the BMO cheques that were in there
Report the stolen wallet to the police in the area
Report my wallet and ID stolen to TransUnion and Equifax
Transfer my points cards over to a new card (what? It's like free money!)
 Go to ICBC to get a temporary drivers license
I'm glad I didn't have my passport or credit card in there, but more than anything, it's a huge inconvenience. Especially since banks are ridiculous and don't let you report your card stolen online.

To be honest, I feel a little violated, somehow. Somebody out there has my driver's license, a bunch of business cards, and my care card with them. That's super creepy.
Have you ever had your wallet stolen?