A couple of weeks ago, TeacHer Finance wrote a post asking whether or not personal finance advice should depend on geography. I am so happy to see somebody bring this up, because where you live really does have an impact on what makes sense financially.
When I read some of the advice out there, some of it falls short for me as somewhat of a fable or an out-of-reach ideal.
Today I'm going to talk a little bit about personal finance in Vancouver, BC, Canada. How much does it cost to live in Vancouver? What are the biggest budget breakers? Where can we save money?
Vancouver is one of the most (if not the most) expensive city in North America. Wages are lower than average; housing is inflated, and that's just the price of living in this wonderful metropolis.
This is coming from somebody who grew up in a town that was much more manageable regarding living costs. I moved from a nice, new, 800 sq foot condo with a pool, which was 7 minutes from work in my hometown for just over $1000/month to an old (albeit optimal location), 480 sq foot basement for $975/month, hours away from anywhere you can find work when I moved to the Vancouver area.
The cost of things in Vancouver, needless to say, shocked me a bit, especially coming from a smaller town where $400,000 could buy you a new, large home with a view.
That doesn't happen here.
Housing
Housing in Vancouver is one of the main reasons that this beautiful city is one of the most expensive places to live in North America. When house hunting, the best deal we could find was a 60-70 year old house, about 1800 sq feet in a far-off suburb of the lower mainland for $370,000. This was an absolute steal; it was a foreclosure. If we had enough money to even look at living in Vancouver itself? Well, let's take a look.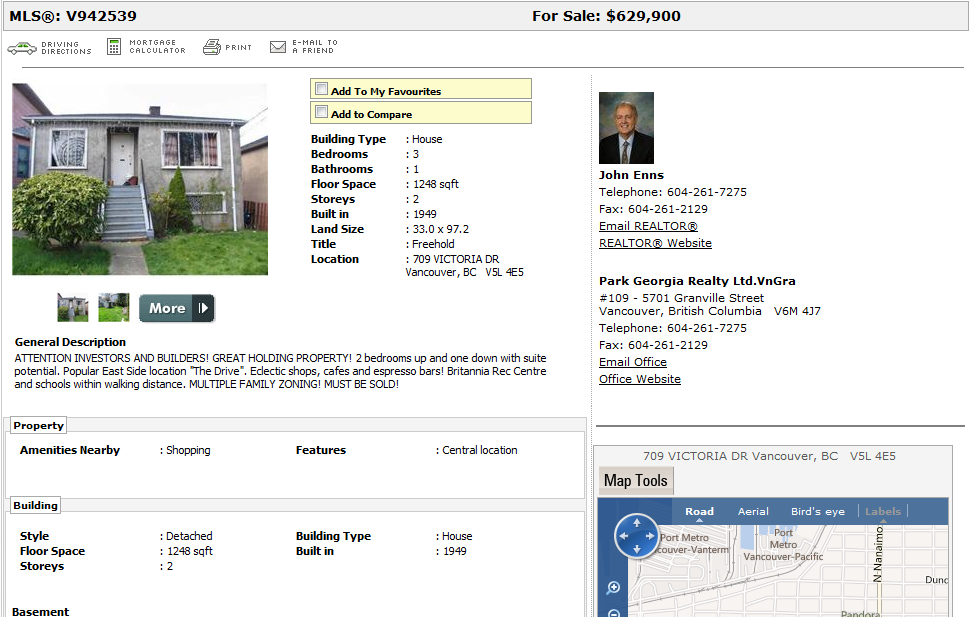 This dumpy house is selling for $629,900 and is not even in a good neighborhood. It depends on who you ask, but I would definitely not want to live on Vancouver's East Side - it's one of the poorest neighborhoods in Vancouver and depending on where you are on the East Side, it can be dangerous.
The lot size is only 3200 sq feet, meaning it's tiny and the houses are insanely close together. The modest, 1248 sq ft floor space inside includes the only partially finished basement.
Can you imagine the cost of living in a decent house?
Food
Food in Vancouver isn't any more expensive than the rest of Canada, but meat, cheese, and other dairy products are substantially more costly in Canada than in the States.
Additionally, coupons aren't prevalent here in Canada. We might get $.50 off of something that is already pretty expensive, but we can't do the extreme couponing thing (but why would you want to?).
Example: a 500 gram block of Cracker Barrel cheddar cheese is around $10-12 depending on where you go. Sometimes, Walmart has a sale on it for $8 and we stock up.
Even fast food is substantially more expensive in Canada. Case in point:
We went to Dairy Queen last weekend to get ice cream and we both ordered a small blizzard. It cost $10.60.
When I go to the States I'm always shocked at how cheap the fast food is. I remember going through a drive through and being able to drive away with a burger, fries, and a drink for $4.
Drinks in Canada - forget about it if you're on a budget. Alcohol in general is expensive and only sold at liquor stores, not convenience stores like in the States. My favorite wine is about $11 for a bottle but it depends on the store.
Entertainment
We're lucky in Vancouver in that there is a ton of outdoor space to explore. There are big parks, and if you have the transportation there are lakes and nice hiking trails everywhere, plus lots of mountains to climb.
Entertainment doesn't have to be expensive. But for instance, if you go to the movies, general admission to the Scotiabank Theater downtown is $12.99. Some admission is $13.99-$15, some is $11.99 but it usually stays around that price depending on the theater.
After having checked the prices for the theaters in my hometown, they are $10.75 at the absolute most expensive, and $9.75 for the smaller theaters.
This just shows that even places that are only a couple of hours away from one another can have very different prices.
Transportation
I could break this up into a few different categories, between public transportation and driving costs.
First of all, though, lets look at gas prices. 
Vancouver: $1.45/litre (Wednesday last week). In US$/gallon, gas is $5.49/gallon in Vancouver.
When I went home for Easter, the gas there was $1.29/litre.
Across the border, in Bellingham, Washington (just 45 minutes away from Vancouver), according to gas buddy the prices are $3.93 at Costco. In Canada, that would translate to $1.04/litre.
Needless to say, the prices are different everywhere. Vancouver is expensive for gas. Lots of people go across the border to fill up.
Public transportation is a lot more reasonable. A single fare for the Skytrain or bus, depending on how many zones you need to travel through, starts at $2.50 for one zone, and goes up to $3.75 for four zones one way. You can buy a monthly pass, prices for which I've included below (it's a screenshot). 
I remember being able to buy a bus pass in my hometown when I was a teenager for $30/month. I just looked to see how much they charge and it's now $60. There has been some talk about raising the prices in Vancouver.
I should mention that I've never used the 1 Zone ticket.
The layout of the Vancouver area and surrounding cities is as such:
As you can see, there are many cities in the "lower mainland" region, other than Vancouver. I don't live in Vancouver itself, but in one of those surrounding cities.
When I see financial advice such as "ditch the car and take public transit", it's not realistic. I work in one of these cities, and live in another, and go to school in an entirely separate city. It takes about 30 minutes to get from my home to my work because it's against traffic, and it takes about 35 to get from home to school if it's a low traffic time.
However, to get to school from my house takes 1 hour and 14 minutes on public transit, and I have to walk, take two sky trains, two busses, and then walk again.
To get to work from home is even worse, ringing in at 1 hour and 33 minutes one way.
As an example (and I don't live in either of these cities but it's an example), the bus from Langley doesn't even run to Abbotsford.
Bridges and infrastructure is interesting in the lower mainland, for the simple fact that one of the bridges to get across that little river you see in the map? Is tolled. If you are driving a normal passenger vehicle, it costs $4.10 to go over one way. You can have a discounted rate if you get a pass. 
They are tolling a major bridge too, when they finish construction, and I'd wager a bet that it's the biggest bridge and the most used to get from one side of the Fraser river to the other. That's the bridge I'd have to take to get to work. I can get a pass for $2.90 one way, but that's still damn expensive.
Taxes
Taxes vary province to province in Canada, not city to city, but the federal income tax rate is 15% for earnings under $42,707. Anything over that is taxed a federal rate of 22% up to $85,414. Over and above that amount, it`s 26%, up until $132,406 at which point one is taxed $29%.
Provincially, it varies. Below is BC`s tax rate.

About 25% of my paycheques are gone by the time they hit my bank account.
Bridget, Mikhaila, and other Albertans have a flat provincial income tax rate of 10%.
As far as taxes on goods and services, it depends on the products as well. BC gets taxed a GST (government sales tax) of 7% and a PST (provincial sales tax) of 5% (I could be getting those backward). Alberta only has the GST, and does not charge PST.
Health Care
This title is a new edition to this post because as somebody pointed out, much of our taxes goes toward health care, so the 25% isn't bad.
Truth! Canadian citizens enjoy universal health care. We're lucky. We don't have to deal with having to have healthcare accounts, and if we get pregnant or fall sick, we can just walk into any doctor office, hospital, etc with no worry about our pocketbooks.
We do pay for it, in our taxes, as well as MSP (Medical Service Plan). MPSa monthly cost that most employers cover for employees that people over a certain income have to pay (usually around $50) toward healthcare costs.
We also have, depending on the province, a very generous maternity leave/paternity leave program. I believe we are allowed almost a year - I could be a month or two short - so we get paid 55% of our incomes for that period of time when we have kids.
Saving Money in Vancouver (or BC in General)
There is a joke about British Columbia that BC stands for Bring Cash (depending on who you ask, they might say it also stands for Bring Cannabis, but that's another story).
Saving money in Vancouver is really not an easy feat, especially since if you were to ditch the car to save money you'd have to live closer to Vancouver itself, which is damn expensive.
To save money in this metropolis, there are a few options. You can live in an area which is a little worse for the wear (or a lot), but most of the bad areas are truly bad. I live in an apartment that is a pretty run down apartment, but it's tolerable, and our rent - not including any utilities (hydro, not even laundry, electricity, internet or phone) is almost $900/month. If we include all of the above listed utilities, we're looking at almost $1200/month, depending on the weather.
You can live farther out - ie in Abbotsford, which is seen as the sticks in most areas and can be very isolated. If you live in Abbotsford, most people wouldn't consider you to live in even the Vancouver area (by any stretch of the imagination), and the closer you get to Vancouver, typically the more expensive it is.
Since we're so close to the border, to save money on gas, groceries, or alcohol - even clothes and gifts - lots of people go over the border to fuel up and stock up.
Luckily there is a lot to do in this area without having to pay for anything; entertainment can always come free.
Vancouver and the lower mainland of BC area has a lot to offer, but cheap living isn't included. Unfortunately, much of the 'advice' that the surprising amount of personal finance bloggers from Vancouver frequently read about on other blogs would never be able to apply to us.
How about you? Is your region unique in the lack of advice you can actually enact? What is the most expensive thing in your city?