Hi, I'm Kathleen, and my corner of the internet is FrugalPortland.com, where I write about getting out of debt, saving money, setting goals, and having fun in Portland, Oregon.
Recently, two of my cousins came to visit. They just finished their first year of college, and they wanted to take a trip together. These two are not siblings, simply best friends who live in the middle of the country and wanted to spend time in Portland.
I was excited to have them, of course, and knew that I could show them a good time. And we had a great time. They were here for a week and we put miles on the car, filled our days with Northwest activities, spent time with family, enjoyed each others company, and ate great food.
On our way back to Portland from Seattle, we stopped in Olympia, WA to hang out with my parents. We went to dinner at a restaurant on the water, and sat outside. The girls knew that my parents would buy dinner (because that's what parents do) and there was little discussion about what to order, except that I personally didn't want to eat too much because my dad told me there was a new ice cream shop in town.
One of the girls ordered a club sandwich, and the other decided to be brave and try something she'd never tried before: king crab legs from Alaska.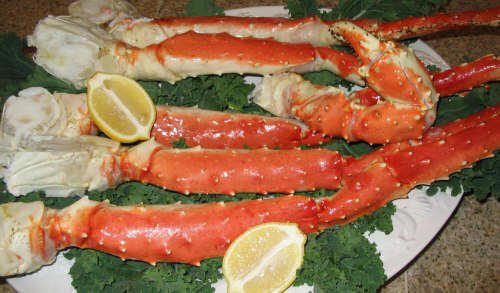 I'd never had them before, either. But that's because they are usually far too expensive. On this menu, they were listed at market pricewhich typically means that the dish will be as expensive as the most expensive item on the menu. Sometimes $10 above. And she's young, and perhaps hadn't seen "market price" on menus before.
My dad was in for a surprise when the bill came. Her crab legs were $50, when the expensive dinner items were around $22. She had no idea, and my dad didn't want me to tell her, so I didn't. She's not the type to take advantage of someone else buying her dinner -- in fact, she paid for my dinner at least once on the trip. She simply didn't know. She would not have ordered them if the price were listed.
My mom told my sister, who couldn't help but tell my cousin about her faux pas. She was so embarrassed, and couldn't believe that she'd ordered something that was as expensive as everyone else's meals, combined. This is a mistake she will never make again.

I feel like there were two problems here. One, she should not have ordered something without knowing the price. Two, and here's the kicker, the waitress really should have said something. When your normal dinner prices are $22, market price should never be $50. In fact, market price as a general rule should only be five or ten dollars higher than the next-most expensive item.
Have you ever ordered anything market price?