I never used to be a huge TV watcher, mainly because we didn't have cable and I didn't have time. It's hard to find the time to sit down and watch TV when you are working full-time while balancing school full-time as well. I'd come home at 11:00 PM exhausted and ready to just fall asleep.
I've also never been a fan of paying for cable, not just because it's expensive (it's not that bad) but because I always felt that I was paying to watch advertisements. They never stopped, and it was annoying.
Recently, now that I've graduated and we have settled into the new house, I watch my one-show per night before moving on to being a little more productive with my time, and I've really enjoyed getting into a few shows.
There's just something about some of these shows that has me online shopping like a fiend, so I thought I'd create a guide of shows that you SHOULD avoid if you don't want to spend heinous amounts of cash on pretty things. Obviously this list depends on your taste and your age, but they usually have something for everyone.
Pretty Little Liars
This is the worst for me. Spencer has, hands down, my favourite wardrobe in the show. Every time I see her in another cute outfit I find myself Googling the piece. Obviously, most of the items are really expensive, but they make me pine.
Too young for you? The girls in this show live in beautiful houses, drive beautiful homes, and have beautifully dressed parents and older siblings, too. Avoid at all costs if you're on a budget.
Gossip Girl
While the show may be over now, the re-runs won't stop for awhile, and even if you aren't in to the beautiful clothes, hair, and home décor (in which case, what's wrong with you?!), you can't avoid wanting to hop on the first plane to NYC when watching this show.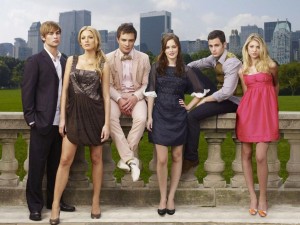 Plus they are always going to various places around the globe and that definitely plants the jealousy seed.
Keeping Up With The Kardashians
Judge me as you will, but I have an embarrassing weakness with KUWTK. But the show does nothing to curb my case of the "I want"s. I mean, the girls run a few awesome stores and I love the clothes that they all wear. Plus, their houses are divine and even the kids are dressed adorably.
Never mind the fact that they take a yearly vacation, and film it when they are there. I always want to go to wherever they've gone, because the resorts they choose are amazing.
Real Housewives of ______
I don't watch any of the RHO series except for the local one. Because this is possibly the worst TV ever invented, I try to limit even the amount of it that I watch.
Watching this show doesn't really give me an urge to go out and buy their outfits, so much as it makes me want to go to the restaurants/bars/stores they frequent.
Because RHOV is set in a city pretty close to where I live, I always love to try new places, but that comes at a price.
Are there TV shows that make you want to spend money?